JAIST International Student News(2015)
We release the current statuses of international students in JAIST and the former international students of JAIST who are successfully working all over the world.
Dear international students who plan to enroll in JAIST
JIANG, Dan
Hello, my name is JIANG, Dan from China. I have graduated from master's program in School of Information Science on March 2015. You must be worried about going to JAIST yet, however, it would be my pleasure if my experiences could help you to relieve the anxiety even just a little bit.
First of all, I would like to tell you how high the research capacity of JAIST is. Since I wanted to conduct research in the field of Information Security, I took Information Security Track together with ordinary courses and learned further basics and the most advanced information of the field. On the research, I could have Research Meeting alone with my professor twice a month at least and I was given several advices such as the progress of my research and the way I should pursue. If you make an effort even you are still in the master's program, you can try presenting a paper at a domestic academic conference and also at an international conference, and furthermore, you can try a contribution to a journal.
Next, JAIST offers its own scholarship systems. Not only scholarships offered by the Government and local governments, you can also apply for the ones offered by private foundations. I received 120,000JPY/month as a scholarship from a private foundation and didn't need to bear tuitions and living expenses so that I could concentrate on a research study.
Lastly, JAIST sits in the middle of the beautiful natural environment. You can see several kinds of scenery depending on the seasons around Ishikawa Campus. Fully bloomed cherry trees lining in hundreds of meters in Spring, fireflies and crisp starry sky in Summer, three-colored mountains with autumn leaves, fluttery snowfalls in Winter……you can visit and see Nanatsudaki Falls nearby campus during the break of research study. In daily life, there are dormitories with small burden for residents to clean up and you can take shuttle buses which bound for Tsurugi Station and Komatsu Station. If you want to go for a short trip, I would recommend you to visit Tateyama in Toyama and Tojinbo Cliffs in Fukui, which are neighboring prefectures.
After graduation, I entered a company in Japan (Toshiba Cooperation) and I am in training for now. To become a fully qualified member of the department of research and development and to make my dreams come true, I am working hard every day.
I am praying for your future success in JAIST.
At IEEE International Conference
AINA 2015(Gwangju, Korea)
Grape picking at a seminar camp
Message from Alumni
DONG, WooSeok(Korea, School of Knowledge Science/Kosaka lab)
Hello, I am DONG, WooSeok. I enrolled in master's program of School of Information Science in April 2009 and completed doctoral program of School of Knowledge Science in December 2014. I am posting this message onto JAIST International Student News since I hope it can be of some help for JAIST students and those who intend to enter JAIST.
The reason I chose JAIST was originated with the class I took in my undergraduate days when I was aiming at launching a startup company. At that time, Samsung, the leading company in Korea, brought up a concept "Knowledge Management" and universities started to open its related classes such as Theory of Knowledge Management. In traditional business administration, it was focused on "Supply a resource, optimize a process, and produce the maximum benefit". However, in Knowledge Management, they said "Knowledge of human beings makes an innovation and it creates additional new values." and it hit me in my mind. To experiment and learn the spirit of good services such as "Human-centered Management Philosophy" and "Omotenashi (sincere and warmhearted hospitality)", and to fulfill my dream, which is to establish my own company with information technology, I made up my mind to enroll in JAIST.
I really had a great time in JAIST. Needless to say, you might be familiar with its superior research environment, educational programs and scholarship systems in JAIST. There are beautiful nature environment and traditional culture in Ishikawa. I believe international students can have great experiences through them. The local people are kind and food is delicious, and which make my life comfortable. I was extremely inspired by interacting with students coming from overseas as I was.
However, you might need to be prepared for changeable weather and heavy snow in winter. JAIST is located in a bit inconvenient place to move around without a car and we tend to be alone in the mountain. So I, who always miss someone, also did engage in exchange activities outside of campus diligently. And then! I got married to a Japanese woman. Keep up with your exchange activities as well as your research study! LOL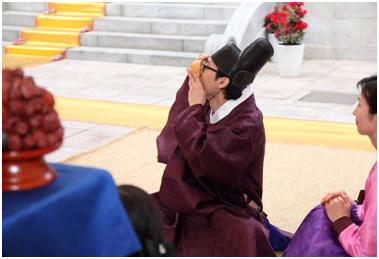 We held a traditional Korean wedding ceremony
My research themes were "A preliminary proposed curriculum support system for information technology specialists based on the knowledge space theory" and "Proposal of Experience Sharing Service Value Co-creation model (ESSVC)". When I was in master's program, I worked on the curriculum support system which was made for students in the field of information technology to propose appropriate curriculum corresponding their future plan. And in doctoral program, I engaged in the research regarding development of the experience sharing service model with ICT for Korean education services.
Normally, students publish their papers on academic journals and present them at conferences after their researches. However, I took a different action from other students. I made a business plan based on my research theme and applied for business plan contests. For three years throughout my doctoral program, I tried my several ideas at business plan contests and also engaged in creating an environment enable to establish my own company. And these led me to win Minister of Internal Affairs and Communications Award, Minister of Economy, Trade and Industry Award, TOMODACHI Social Entrepreneurship Award and so on and then I have just established my company "Dreampharos" in Kanazawa on October 1st, 2015. I am currently developing "Yumenote" which is the cloud-based electronic contact notebook between teachers in kindergartens/nursery schools and parents and devoting all my energy on business deployment. I could finally reach the starting line and I will keep doing my very best! Wish me luck!
Degree Conferment Ceremony
in December 2014
Study and training at Silicon Valley as a supplementary
prize of TOMODACHI Social Entrepreneurship Award
For me, JAIST was not only the institute for obtaining a degree but "Incubator" to have supported me making my dream come true. When I was breaking off my heart with getting my chronic illness worse and financial burden and thinking about giving up my study abroad, I was warmly supported by my supervisor Prof. Kosaka, Prof. Sasaki of Health Care Center, Prof. Holden of Institute of General Education, my colleagues at lab and members in local Rotary Club and that helped me to obtain my doctoral degree and to start my company. I will never forget my precious experiences during my days for six years in JAIST which brought me here. I would like to appreciate everyone and everything that came across in my life.
You may have a dream. If not for now, it is just fine. I believe that you will find your dream, it will become visible and finally you will be able to grab it if you keep seeking it. As I fulfilled my dream to establish my own company via my JAIST life, I can surely impress from my experiences that you will be able to find your dream, to give a try and to bring it into reality in JAIST.
Thank you for reading this long message. Wishing you continued success and prosperity.
List of articles on JAIST International Student News