[Caution] Spoofing Mail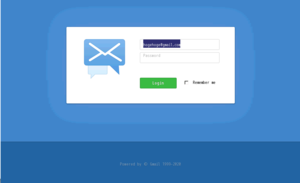 We have confirmed that the following malicious email regarding mail services have been received from outside.

Subject: <mail address> 電子メール通知
===========ml.jaist.ac.jp ウェブメールサービス===========
(omitting the begining)
x 保留中の受信メッセージがあり、送信者に戻ります
以下のリンクをクリックして、メールボックスを更新します

https://xxxxxx.com/random/randsp.php?email=dummy@ml.jaist.ac.jp
================================================

If you have received the malicious email and inputted your account and password in the link, please contact the CSIRT (sec-incident(at)ml.jaist.ac.jp) as soon as possible.

Impact of such malicious email containing a suspicious link:
* If you access a suspicious link:
Information such as email addresses can be exploited by malicious attackers. Based on this information, you may be subjected to targeted attacks on a continuous basis.
* If you have entered your account/password in the suspicious link:
Your credential of JAIST are exploited. Not only JAIST services, but also services outside JAIST that use similar passwords may be attacked and personal information may be exploited.

Many malicious or suspicious e-mails may be received on a daily basis.
Please be careful with suspicious emails.
If the mail you received seems to have some suspicious content,please be sure to contact the sender or JAIST CSIRT even if the email from the address of your acquaintance,

NOTICE:
+ DO NOT RESPOND to the email.
+ DO NOT CLICK any link in the email.
+ DO NOT OPEN the attachment files.
+ DELETE the email or report to JAIST CSIRT.
+ If you open the attachment files or links, REPORT TO JAIST CSIRT AS
SOON AS.

JAIST CSIRT: sec-incident(at)jaist.ac.jp

If you have any question, please reply to JAIST CSIRT.
Thank you for your understanding and cooperation.