Summary
GakuNin RDM is a research data management platform provided by the National Institute of Informatics (NII).
Individual researchers or research groups can manage research data and related materials (access control, version control, trail management) during a research project.
Target users
Faculty (full-time), regular student, researcher (JAIST employment)
How to login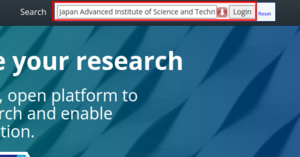 The URL of Gakunin RDM is as follows.
URL:https://rdm.nii.ac.jp (External link)
Select "Japan Advanced Institute of Science and Technology" from "Search" at the top right of the user page, and click "Login" to move to the login screen of the integrated Single Sign-On System (JAIST-SSO) and login with your JAIST account.
Supplements and precautions
About primary storage: The primary storage is NII storage provided by NII (up to 100GB per user, less than 5GB per file). It is currently available free of charge, but may be charged on a pay-as-you-go basis in the future. In addition, automatic data migration tools etc. are not provided by NII. You need to manually migrate the data yourself.

About trail management of extended storage: Depending on the type of extended storage, it may not be automatically linked with the trail management function of GakuNin RDM. Since J-Storage (NextCloud) is not automatically linked, you need to manually press the "Timestamp" button when uploading a file from the J-Storage side (The trail is automatically managed when uploading from the GakuNin RDM side). The trail is automatically managed). For details, please refer to the restrictions on the external storage that can be linked with the GakuNin RDM user support site.
About institutional storage: Currently, there is no plan to provide institutional storage.

How to use J-Storage as extended storage: Issue an "app password" in J-storage, and set the issued user-ID and app password as the Nextcloud account of the GakuNin RDM add-on. Please see here for how to issue the app password.

[Important] About support and inquiry
RCACI cannot answer or support how to use GakuNin RDM. Also, please never directly contact the NII. Please check the Gakunin RDM manual etc. by yourself.
If there is a request (e.g., to add/refine a new/existing feature, to fix a defect) for the GakuNin RDM of the NII. So please summarize your requests in an easy-to-understand and concise manner, and report it to this center..