URL Filterling in Incoming Mail
Many phishing emails as well as SPAM emails have been sent to JAIST from outside every day.
If you click the links in these emails and access them, you may be misguided to phishing sites or virus infectious sites.
Therefore, we are going to enable "URL Filtering in Incoming Mails".
Accordingly, the evaluation (Reputation) of URL linked in the email is checked when receiving them and if the evaluation is low, the URL is rewritten before delivering the email to the recipient .
URL Reputation Service Policy
Reputation of URL in the emails sent to JAIST is classified into the following three categories.
Malicious
Neutral
Clean
URL evaluated as "Malicious" in the email is rewritten to the one to go through security proxy before delivering the email to the junk folder of the recipient (the same measure as SPAM mails).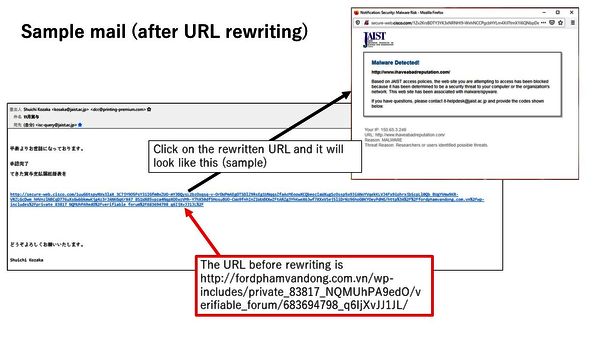 In Case of Misclassified URLs
If the URL reputation results in false detection of "Malicious" in spite of a normal URL, please inform the Research Center for Advanced Computing Infrastructure.
We will register in the white list. However, please note that the URL of the email that has already been rewritten will remain as it is.